G6EVO bollards in renforced version can stop a 2,5T pick-up travelling at 48 km/h. It's an ideal solution to secure schools, high schools, shopping centers, hotels or condominium buildings, where the level of security is moderate.
Removable jacket & easier maintenance
The G6 EVO bollard is equipped with an innovative interchangeable sleeve system for customizing the aesthetics of access points and refurbish any damaged bollard heads in less than 5 minutes. The bollard is composed of a raw cast iron head, which provides high impact resistance, covered with a sleeve in steel or stainless steel. The new G6 EVO concept makes on site jacket replacement easy and quick, without using any hoisting means.
RENFORCED G6EVO - Retractable automatic bollard
Conception: Urbaco Monobloc® certificate : 3 elements of structure : casing, cover and bollard head each molded one piece spheroidal cast iron material.
Use: Protected against ram vehicles; Intensive passages
Material: 13mm average thick cast-iron material (Corrosion protection painting on raw bollard head)
Display device: Class II reflective band(white)
Illuminated ring: Leds (Red in Standard, White in Option)
Reability: 4.5 million of operations without any failure neither part replacement
Dimensions (mm): Ø250 x H750
Standards: ISO EN 124 – E600 Class – Accepted vertical load: 60T per axle / In compliance with NFP98-310 standard / In compliance with the French PMR decree
Design: CYLINDER
CYLINDER INOX
CUSTOMIZABLE
MOTORIZATIONS


Built-in hydraulic pump


External Hydraulic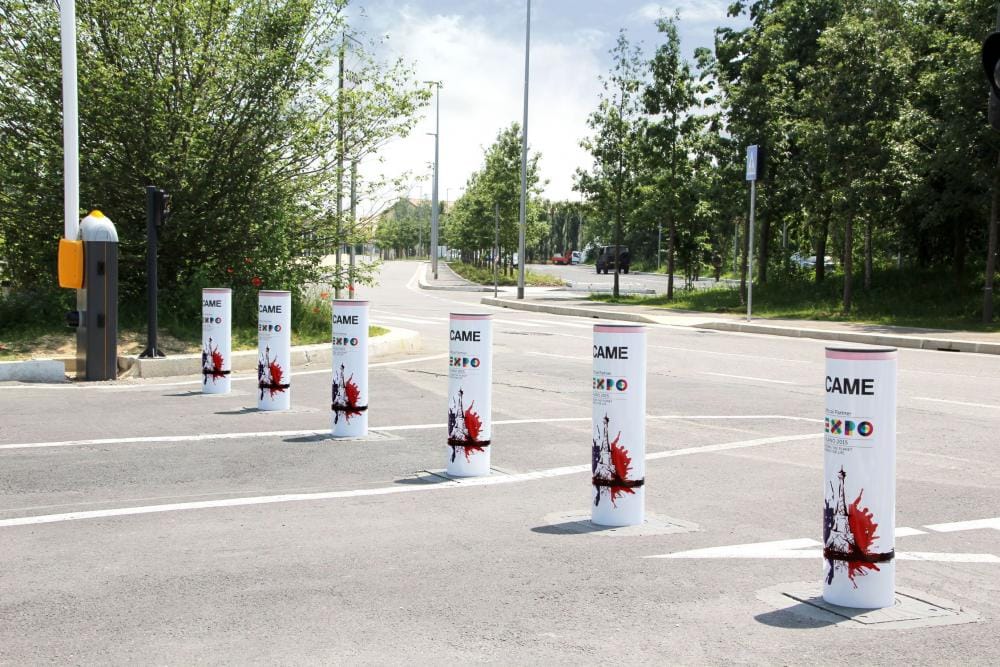 Related products:
ONE30 Evo: Fixed
High-security fixed bollard.
Related products:
Twister
The ideal solution, even transponder-fitted, for high-volume pedestrian passages.
Related products:
Unipark
Ideal for parking guards in residential and public settings.
Related products:
Outdoor Volumetric Detectors
Discover our range, which is composed of curtain-effect detector, passive infrared volumetric detector or dual technology volumetric detector.
Related products:
BXV
Ideal solution for connected sliding gates in homes and apartment blocks.