BXV PLUS
THE RESIDENTIAL
AUTOMATION WITH
THE MOST ADVANCED
ELECTRONICS
AS POWERFUL AND RELIABLE AS BXV
The 24V motor
for sliding gates up to 1.000 Kg
Equipped with Encoder for smooth movements and efficient slowdowns.
Available with emergency battery system for safe operations in case of blackout.
DISCOVER ALL BXV FEATURES
WATCH THE VIDEO > TODAY ANOTHER STEP AHEAD
BXV PLUS
BXV, ONE STEP AHEAD
The new ZBC1 control board offers new advanced functions compared to BXV, in order to get even superior performances!
Configuration wizard with Auto-Setup

Adaptive Speed and Torque Technology

Compatibility with CXN BUS systems
CONFIGURATION WIZARD
WITH AUTO-SETUP
BXV PLUS allows to save time during installation thanks to two configuration modes:
USING THE GRAPHIC DISPLAY directly on the control board, following the step-by-step instructions
USING THE SMARTPHONE thanks to the Wi-Fi connection to CAME KEY
ADAPTIVE
SPEED AND TORQUE
TECHNOLOGY
It's the technology which constantly adapts the torque and allows to get low maintenance costs and maximum efficiency in any weather condition.
DISCOVER MORE >
ADAPTIVE
SPEED AND TORQUE
TECHNOLOGY
The electronic control board constantly monitors:
SPEED
ACCELERATION / SLOWDOWN
CURRENT ABSORPTION
It guarantees higher safety in case of obstacles and a correct friction problems detection in any weather condition, such as dirt or small rocks on the rail.

THE FIRST CXN-BUS NATIVE
SLIDING GATE AUTOMATION
BXV PLUS is equipped with inputs for the connection of both traditional and CXN BUS accessories.
DAISY CHAIN Connection
STAR Connection
MIXED Connection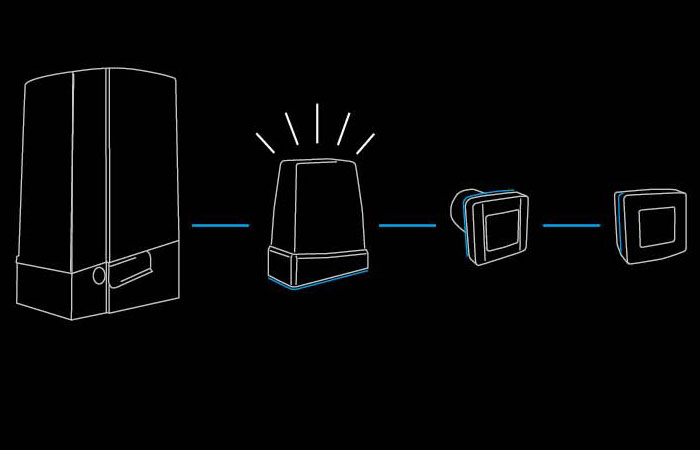 BXV PLUS IS AVAILABLE IN 3 VERSIONS
| | BXV PLUS |
| --- | --- |
| 400 Kg | 801MS-570 |
| 600 Kg | 801MS-580 |
| 1000 Kg | 801MS-590 |
The complete BXV range includes
10 models with different features.