G6EVO u pojačanoj verziji može zaustaviti 2,5T pick-up koji se kreće brzinom od 48 km/h. To je idealna solucija za osigurati škole, srednje škole, trgovačke centre, hotele ili stambene zgrade u kojima je razina sigurnosti umjerena.
IZMJENJIV PLAŠT I JEDNOSTAVNO ODRŽAVANJE
G6 EVO je opremljen inovativnim sustavom izmjenjivih omotača za prilagođavanje estetike pristupnih točaka i obnovu oštećenih glava u manje od 5 minuta. Stup se sastoji od glave od sirovog lijevanog željeza koja pruža visoku otpornost na udarce, prekrivena je plaštom od čelika ili nehrđajućeg čelika. Novi koncept G6 EVO na licu mjesta omogućava jednostavnu i brzu zamjenu zaštitnog plašta, bez korištenja bilo kakvih podiznih sredstava.
G6EVO - poluautomatski podizni stupovi
Koncept: Urbaco Monobloc®  certifikat: 3 elementa strukture: kućište, poklopac i glava vijaka oblikovani su od jednog komada sfernog materijala od lijevanog željeza.
Upotreba: povremena otvaranja
Materijal: 11m prosjećna debljina ljevanog željeza
Display device: Klasa II reflektivne trake (bijela)
Zaštita brave: Otvor za ključ zaštićen je brončanom pokrovnom pločom koja zaustavlja ulazak prašine ili šljunka.
Standardnan otisak ključa: E11 (ključ za zaključavanje podudara se s otiskom brave)
Sigurnost u radu: Pojačana šipka za zatvaranje i vijak za zaključavanje
Otpornost na udarce: Ø200 : Middle (1,2T at 50km/h) Ø250 : High (2,5T at 55km/h)
Pouzdanost: 4,5 miliona operacija bez ikakvog kvara ili zamjene djelova
Standardi: ISO EN 124 - Klasa E600 - Prihvaćeno vertikalno opterećenje: 60T po osovini / U skladu s NFP98-310 standardom / U skladu s francuskom uredbom o PMR-u
 
Dimenzije: Ø200 x H750  I  Ø250 x H750
Dizajn: CYLINDER
CHÂTEAUNEUF
CYLINDER INOX
CHÂTEAUNEUF INOX
CUSTOMIZABLE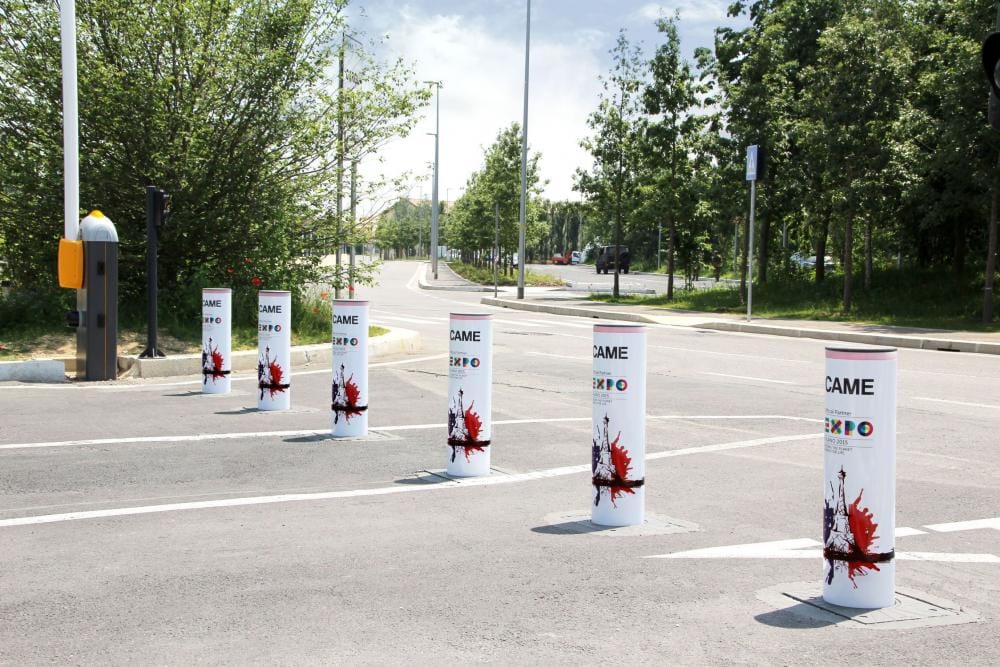 Related products:
XVia
Elektromehanička okretna rampa s transponderom za visoki intenzitet prometa pješaka
Related products:
ONE40 Evo: Uklonjiv
Uklonjiv stup visoke sigurnosti
Related products:
Cat
Ideal solution for fitting in historical town centers and private and public venues.
Related products:
By-3500T
Ideal for fitting onto vary large gates.
OUR RANGE OF Accessories
Sel-Digital
The digital control for all automated operators.